Worth anyone's attention who loves a proper dark mystery shrouded in death, regardless of format.
Did you hear: In 1972, a popular student from class 3-3 named Misaki died. However, instead of accepting the death of a classmate, the rest of class 3-3 decided to pretend that they were still alive until graduation.
That was until their face popped up on the graduation photo. This altered the class to a place that "invited death". Every year since, an extra student has appeared on the roster—a dead person! All significant records and memories—even those belonging to the dead person themselves—are altered to accommodate them, and the identity of the dead person is not brought to light until graduation. Additionally, at least one person with connections to 3-3 dies every month for that whole year, be it a student or one of their relatives. In the Spring of 1998, Kouichi transfers to class 3-3 from Tokyo, unaware that his acceptance into the school has started the "calamity" again this year. Is he the 'Extra'? And if he isn't, then who is?
Wow! Just wow. This was everything the synopsis said it would be. Dark, creepy and tantalizing. What a masterpiece. I don't have to say anything else about the plot because the whole point of this series is for you to find who the 'Extra' person in the class is. Personally, the idea behind Another is nothing short of genius. It plays on that whole 'someone died here years ago' rumor that a lot of schools have nowadays. Only in this case, it's true and it's part of the reason bodies are dropping. 12 months? That means you can expect twelve corpses at least.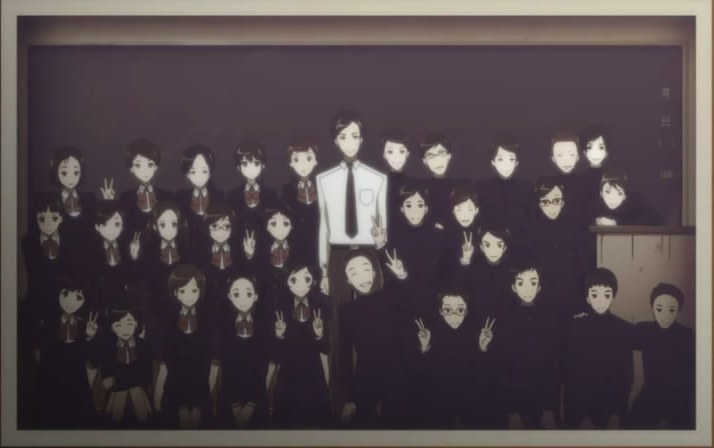 Class of 1972 - "Can you spot the Dead One?"
What is very interesting about this series are the amount of twists and turns that make up the twelve episodes. At no stage do you feel bored about what's going on. Like a proper mystery - everything that happens is important! Pay attention. Also, don't expect yourself to be clever enough to solve the mystery before the big reveal. I'll personally testify that I was foolish enough to make that mistake. Don't worry, my ego is recuperating and is expected to make a full recover, unlike most of the folks in this series. Although, in my defense, every time I worked up a new suspect - they die! That is so freaking annoying - but entertaining! God how entertaining. I loved being wrong the whole way through. That doesn't mean I wasn't ahead at some points. I was able to figure out part of the mystery ahead of time, but that just turned out to be red herrings. Tell me, reading this, don't you want to be wrong for twelve episodes?
Like most things I watch, I watched Another in English. I mean, what's the point of reading a show - especially one in which you have to pay attention both visually, as well as audibly? The cast is all-star with Monica Rial as Mei Misaki, a lone girl with an eye patch that everybody seems to ignore and pretend doesn't exist and Greg Ayres as Kouichi Sakakibara, the new transfer student and resident protagonist. Joining them is Jessica Boone as Izumi Akazawa, the head of 'countermeasures', who is in charge of keeping the death toll at zero. Naturally, as you're reading this, she doesn't do a good job of it.

Something I should point out to some of my younger readers, if this series sounds cool enough to get, be warned that some of the deaths are extremely graphic. The 'curse' may not have a will of it's own, but it sure as hell comes across as an evil bastard in some of it's murders. Indeed, due to the high body count this series produces, it may be easier to save this one until your older. For those who are old enough - there are some pretty unusual (and creative) killings to be seen. If I told you what led to the above shown picture, you probably wouldn't believe me. I know anime sometimes over-exaggerates blood splatter, but in almost all the murders on this show - it's justified, which kinda gives it a 'real-world' feel to the series.
Rating this series: 9/10. This show goes from zero to sixty in no time and like a proper mystery, provides enough hints, teases and red herrings to keep your attention. You can watch the first full episode here and decide for yourself.
Just remember: Be it live, animated , audio and literature - great stories have no set format.