THE AMBITION OF ODA NOBUNA
Suddenly finding himself in the Sengoku era, average high school student Yoshiharu Sagara is about to be killed on the battlefield. He is saved by none other than the man who would later become the respected Hideyoshi Toyotomi, but at a cost of the latter's life. With the course of history altered as a result of these events, Yoshiharu tries to make things right again. Yoshiharu, however, is surprised to discover that the people he meets, the places he encounters, and the historical events he is dragged into are somewhat different than what he remembers from his favorite Sengoku era video game -
Nobunaga's Ambition
. Yoshiharu soon discovers that, in this version of the Sengoku era, Nobunaga Oda does not exist - instead being replaced by a young woman named Nobuna Oda who holds his position as a daimyo. Yoshiharu begins working under Nobuna's command.
SWORD ART ONLINE - [ALO]
Set a few months after Kirito (Sorry I'm going to be using his avatar name instead of his real name) cleared SAO and was sent back to the real world, he learns that 300 SAO players, including Asuna, still have not awakened yet. Following a clue about Asuna's whereabouts in another VRMMORPG called Alfheim Online (ALO), Kirito also enters the ALO's mainframe. Helped by his sister Suguha Kirigaya, known as Leafa in the game, he learns that the trapped players in ALO are part of a plan conceived to perform illegal experiments on their minds, including Asuna.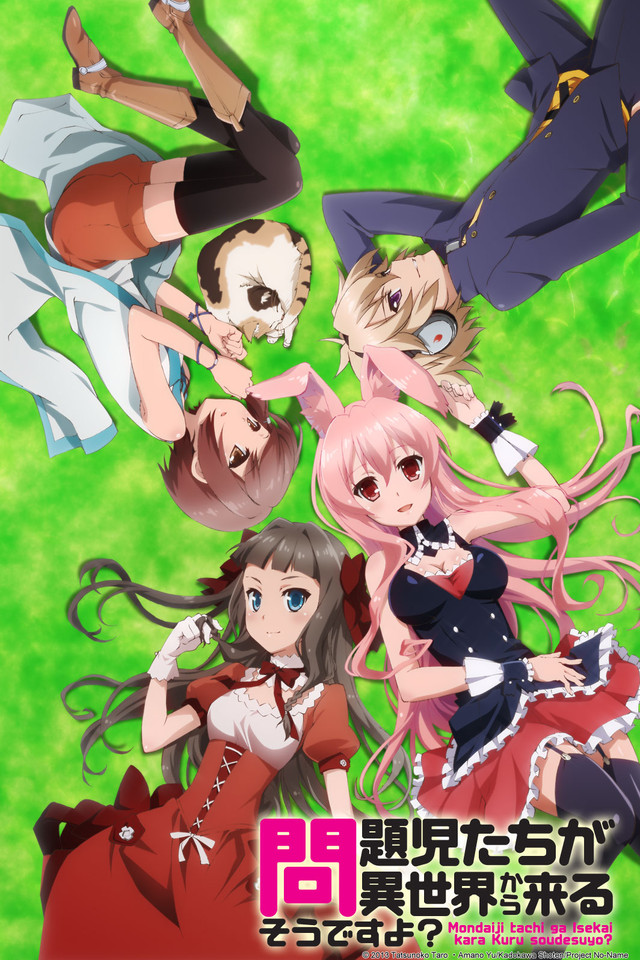 PROBLEM CHILDREN ARE COMING FROM ANOTHER WORLD, AREN'T THEY?
Izayoi Sakamaki, Asuka Kudou, and You Kasukabe are "special". They each have a strange ability and find themselves discontent with their everyday life. One day they receive invitations from to different world called "Little Garden" and are suddenly transported there where the sender of the invitations, Black Rabbit, explains that the world centers around playing games.
A CERTAIN SCIENTIFIC RAILGUN S (PART 2)
A sadistic program has been creating duplicates of the level-5 esper Misaka, then murdering her sister clones in the name of science. Now that the electromaster knows the truth about the organization, she'll stop at nothing to bring it down—even if that means facing the power-hungry Accelerator in a fight that only one of them can walk away from. Elsewhere in the city, an adorable young girl named Febrie is brought into Misaka's circle of friends. As they begin to learn more about Febrie's past, they discover that she, too, is a victim of scientific forces in the city—and that's something Misaka and the girls of Judgment simply won't stand for.
A CERTAIN SCIENTIFIC RAILGUN S (PART 1)
Something sinister is growing in Academy City. The shadows are filled with whispers of a project to clone one of the super-powered students known as espers. High-ranking master of electricity Mikoto Misaka laughs off these stories until she comes face to face with a copy of herself. The duplicates are real, and are being mass-produced from Misaka's DNA, making each one of them a little piece of her.These clones—her sisters—are being systematically murdered in a series of experiments designed to turn a sadistic killer into the strongest esper in history. Misaka vows to save her copies and destroy the project, but this might be one fight she can't win alone.
JORMUNGAND
The series follows Koko Hekmatyar, a young arms dealer who sells weapons under HCLI, an international shipping corporation that secretly deals in the arms trade. As one of the company's unofficial weapon dealers, she secretly sells weapons in many countries while avoiding the local authorities and law enforcement agencies as most of her work is actually illegal under international law. Traveling with her is her team of bodyguards who are mostly composed of ex-military veterans. Her latest addition to her crew is Jonah, a seemingly emotionless child soldier who is skilled in combat yet ironically hates arms dealers. What follows is Koko and her crew's escapades around the world.
ANOTHER!
In 1972, Misaki, a popular student of Yomiyama North Middle School's class 3-3, suddenly died partway through the school year. Devastated by the unexpected loss, the students and teachers behaved like Misaki was still alive, leading to a strange presence on the graduation photo. In Spring 1998, 15-year-old Kōichi Sakakibara transfers into Yomiyama's class 3-3, where he meets Mei Misaki, a strange student whom their classmates and teachers seemingly ignore. The class is soon caught up in a strange phenomenon, in which students and their relatives begin to die in mysterious, gruesome ways. Realizing that these deaths are related to the "Misaki of 1972", it is up to Kōichi and Mei to discover the cause of these mysterious deaths and figure out how to stop it before it kills them.