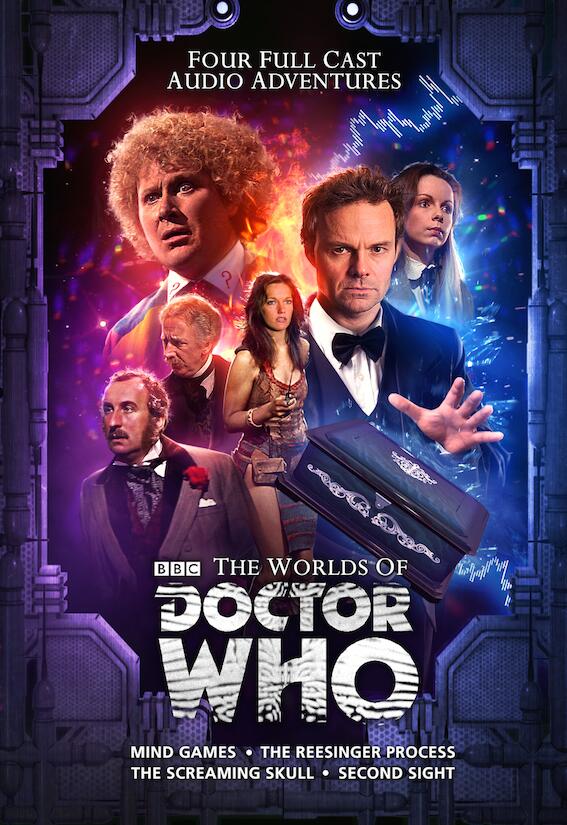 Looks cool doesn't it?
It's just a picture, not the whole thing, but kudos to Big Finish for continuing to build up the hype regarding October's Crisis Crossover release The Worlds of Doctor Who. This one does look better than the green one we got a few weeks ago and that is saying soemthing because I had that one as a personal screensaver on the phone. Guess I'll have to replace it now, won't I?
For those of you who still don't know about The Worlds of Doctor Who, it's:
"An epic adventure uniting the Doctor's friends across time and space, featuring Jago & Litefoot, Counter-Measures, the Vault and Gallifrey!
1: Mind Games by Justin Richards
In Victorian England, Henry Gordon Jago and Professor Litefoot investigate worrying events on the streets of London – which seem to be linked to the New Regency Theatre's resident act, the mesmerist Mr Rees…
2: The Reesinger Process by Justin Richards
London, 1964, and the repercussions of Jago and Litefoot's adventure are dealt with by Sir Toby Kinsella and his crack team of specialists at Counter-Measures. What is the Reesinger Process – and who is behind it?
3: The Screaming Skull by Jonathan Morris
Disgraced soldiers Ruth Matheson and Charlie Sato are called back into action by Captain Mike Yates, when the UNIT Vault is mysteriously locked down by a deadly force. Together they must infiltrate the Vault and get those trapped out alive. But what enemy are they facing?
4: Second Sight by Nick Wallace and Justin Richards
The actions of Mr Rees have alerted the Time Lords of Gallifrey, and Romana has assigned her best warrior. Independently, the Sixth Doctor has arrived on Earth. A power from the dawn of the Universe is about to be unleashed once more…" - Big Finish website

Scheduled for release in October. I can't wait! CAN'TTTTTTTTTT!