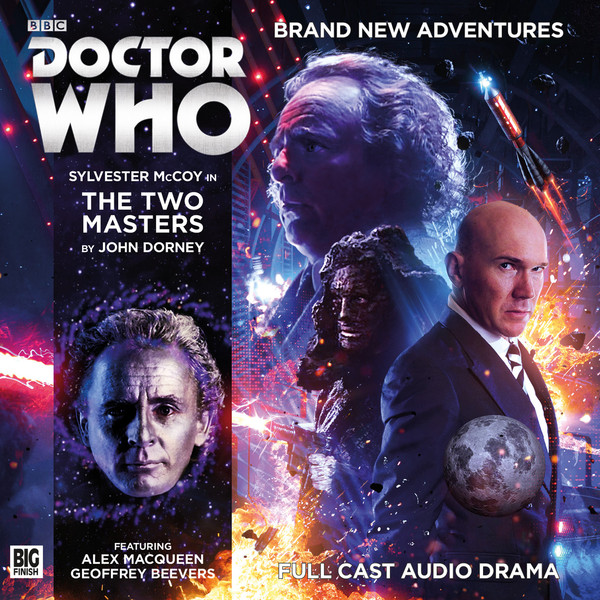 Ladies and gentlemen, boys and girls. I present to you Big Finish's Blink. Their Pandorica Opens. Their Impossible Astronaut. The Doctor's Wife and their answer to Heaven Sent. The Avengers of audio dramas, the Breaking Bad Season 5 of television. The Two Masters rates so highly that this will be less of a review and more or an entire article dedicated to me fanboying over what might possibly be the greatest Big Finish story they have every produced.
If it sounds like I'm exaggerating, I'm not. You know how you meet someone who doesn't know what Doctor Who is and you want them to watch it? You make them watch one of the aforementioned. THIS IS THAT STORY! If you have a friend who has never listened to Big Finish, you make them listen to this one. It's that good!
This is partly due to the fact that in over fifty years of Doctor Who, nobody has ever thought 'hey, let's do a story with multiple Masters'. This is a crying shame. Thankfully can Big Finish not only claim to have beat the television series to this particular storyline, they can proudly declare that they did such a tremendous story a tremendous honour.
The Seventh Doctor goes up against two Masters in a story with more twists and turns than a rollercoaster. It's Doctor vs Master, Master vs Master, Master vs Doctor vs Master! All the possible combinations exist and they are a delight to listen to. If you thought the Doctors were dysfunctional when they meet up, you ain't seen nothing yet.
There is no imbalance or favouring of Masters here. Both incarnations get their fair share of screen time, as well as interactions with both one another and the Doctor. Alex MacQueen and Geoffrey Beevers play off each other as well as David Tennant and Matt Smith. Truly a dream team!
Getting to the actual story, this is a pretty epic one as far as productions go. If we'd gotten this multi-Master story with Michelle Gomez and John Simms instead of Hell Bent, my faith in the television series would be unbreakable. Hire John Dorney to write for the television series! The Two Masters is a season finale level story. The stakes are there, the plot twists continue to entertain and the whole thing just feels like it might be Big Finish's final ever story. It carries that gravitas.
As for the actual plot, let's just say my speculations in my last articles were promptly turned on their heads. I was so surprised by what we got in The Two Masters and how that tied into the previous entries that it managed to boost my overall enjoyment of those titles. There are definitely a couple of 'rewatch' bonuses in this series.
I'll continue to compare this story to The Day of the Doctor because not only does it feel like two stories in a class of their own, but because this story also went out of its way to fix a couple of continuity mysteries in the Master's timeline. We are privy to a little overdue back-story which comes in the form of a very unusual duel between two not-gonna-name-them Time Lords. The scene is perhaps the highlight of the entire series and also helps solidifies something I mentioned as only existing before as headcanon in my Masterology series. This is just one fan-pleasing moment on top of a series of fan-pleasing moments.
I can't talk about this story without mentioning Sylvester McCoy. Likewise I believe that this is the greatest performance he has ever given and I am very much on cloud-9 over the fact that out of all the Doctors, manipulating old Seven gets to dirty his hands when he goes up against the Old and New Masters.
But The Day of the Doctor isn't perfect, and neither is one. From the moment I heard her in the trailer, I knew I wasn't going to like Jemima and hearing that she might become the Doctor's new companion dashed some of the hope I had for this episode. Unfortunately I was not wrong. She is a terrible character. Good news though, she is barely in this story at all. It's as if the plot itself decided to exile her which sits just right with me.
This is perhaps my only real complaint concerning this title. Like Sherlock and Moriarty, Flash and Reverse-Flash, the conflict/admiration between the Doctor and the Master have always been a

favorite

of mine. I am truly proud and

honored

to have listened to this story and to this series in general. It serves as a constant reminder of the excellent quality that Big Finish puts out again and again. It is one of the many reasons I prefer the audio series to the television series at the moment.
Reading this, you might have your personal preferences for a particular series or Doctor, but this series is truly worthy of your time. It well worth the cost of admission and there is little to no doubt that you will finish this series with a wide grin on your face.
Rating this story: Out of 10…11!
Don't forget to pick up your copy of my new novel "
Deathday Clock
".
Sebastian Strange comes under attack by a mysterious assailant with resources both financial and temporal. The only thing keeping him alive is a fob watch which can predict his time of death.
Available now at Amazon for $6,83.