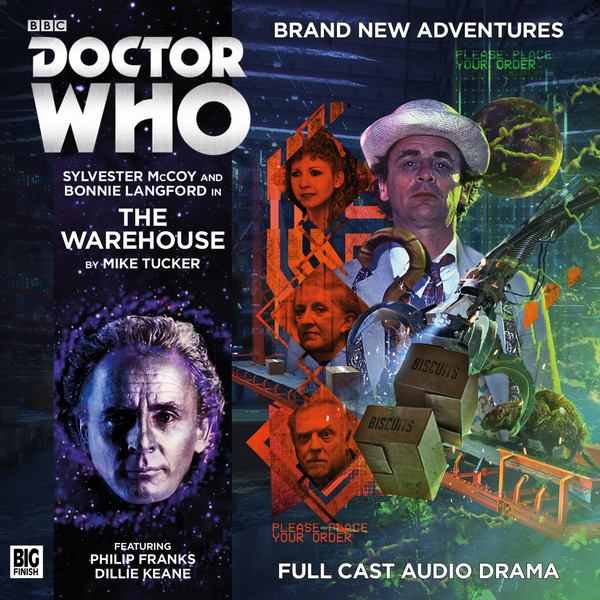 Doctor Who meets Warehouse 13…kinda.
It's that time of the month again. Time for another Seven/Mel adventure and what better way to continue the trilogy started in last month's We Are The Daleks than by visiting a space warehouse filled to the brim with traps, rats, mold and other goodies…that never get delivers? There's no murder, but the mystery is right up the Doctor's alley.
First off, hats off to the Big Finish team for the cover artwork. It is simply fantastic! Really, I loved the artwork for We Are The Daleks, but I like this artwork even more. The 2015 titles feel as though they belong in a different class of excellence compared to the amazing artwork we've seen in earlier years.
Onto the story,
The Warehouse
feels as though it draws a lot of inspiration from Warehouse 13, but don't worry, it's just the 'endless building filled with things' concept that they use here. The plot is also very tight. It's not impossible to guess what's going on ahead of the Doctor and Mel, but it's not dumbed down to make everything obvious. It's a mystery that plays out at a rather fluid pace, filled with a few twists and turns that will make you feel as though you're wondering the endless aisles of said warehouse.
One of Big Finish's numerous triumphs would have to be Bonnie Langford's Mel. On TV, she is one of the most disliked and annoying characters to watch. On audio, she is delightful. I enjoyed her presence last month and this month is no different. Mel has a purpose in the story. Her skillset is utilized properly by Mike Tucker and her less than marvelous talents (SCREAMINNNNG) are heavily downplayed which works wonders. Mel is proof that nobody is beyond redemption.
"This barbarism stops right now. No more talk of blasphemy, no more sacrifices. Or for once, I might just decide that this civilization isn't worth saving."
While I really enjoy the dark side of the Seventh Doctor, it is very nice to harken back to his clownish days. It's nice to be reminded where the cunning manipulator originated from and as with all of his stories with Mel, there is a hint – signs of his darker persona slowly emerging, cloaked in the buffoonish exterior that is Sylvester McCoy's early portrayal.
Mike Tucker has incorporated an absolutely fantastic and clever means of populating the story with a large ensemble whilst keeping the casting roster relatively small. I won't spoil it, but it's simplistic, yet effective. His script has a real sense of mystery and menace to it and the venue he's chosen – The Warehouse – is reminiscent of The Library (Silence in the Library/Forest of the Dead) or The Greatest Shop in the Galaxy from the Bernice Summerfield range.
Lastly, I want to talk about the Doctor/Companion dynamic here. As much as I love Seven/Ace, if Big Finish has proved anything in their 15+ years of audio escapades, it's that Seven/Mel can work just as well. Listening to Sylvester McCoy and Bonnie Langford is like listening to an old married couple. Or maybe two gloves that fit perfectly on each hand. In the right hands, they have the potential to rival Ten/Donna, Four/Sarah and maybe even Eleven/Ponds.
Rating this story: 7.8/10. An enjoyable tale with just the right amount of everything that makes a story worth listening to multiple times over.
If you've enjoyed this review, please like it and share it so other may enjoy it as well. Let's spread the Big Finish love to newcomers. It might feel like a waste of a second, but it means a lot more to myself and others. Subscribe to catch updates on new reviews and other goodies I get up to on here.